The weather finally started cooling and the Bilge Pumps were there to celebrate, along with our piratey and winged fairy friends. For unknown reasons, this became the weekend to try out a bunch of songs we haven't done in years and even a couple we've never even rehearsed! We even had a surprise visit from Blue the Lookout, which means the end of times must be close at hand.
| | | |
| --- | --- | --- |
| The festival's barely begun and Jack the Rum Runner is already corrupting the local fairy population. | Harvey the Corpsman and John Crow the Cook both have an unhealthy fascination with Crow's nipples. | Jack and Maroon the Shantyman get in a few winks while Harvey rambles on about something or another |
| Jack must have cut the cheese because the rest of the band is all heading starboard. | The audience in the Jack Tar Tavern seems to get a kick out of "The Farmer". | Splice the Rigger finally get his revenge dance on Harvey during "The Gun Shanty". |
| You can tell it's "Johnny Jump Up" time when the fae pumpettes hit the stage. | John Crow is caught in a compromising position during "The Night Pat Murphy Died". That'll teach him to die on stage. | Someone is waaaay too proud of his dinghy. |
| The grass skirts are pulled out and placed on the pumpettes to do some Caribbean style dancing for "Isle of Tortuga". | Ex-Bilge Pump Blue the Lookout crashed the Sunday party! | So... first rule of ex-Bilge Pumps is you make them come up on stage to sing a song. |
| Jack and Maroon kill a little time before a show firing off whichever of the 3 songs Maroon knows on guitar. | In keeping with the weekend theme, a brand-new song was fired off. In this case a revised version of "Roll the Woodpile Down". | The Bilge Pumps sing about a sailor's best friend... grog! |
| Harvey gathers himself up some macho men to dance with him during "Cape Cod Girls". | We really need to stop doing drunk songs with John Crow on stage. | It's always fun to get the kids involved with the stories about dismembering children. |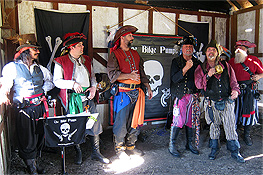 As a public service, the Bilge Pumps spread the story about the dread pirate St. Joe during "Whiskey Johnny".
Video
Mrs. McGrath
Maroon tries to hold on to the lyrics and the rhythm despite the best efforts from the band
Uploaded: Oct 12 2016 &nbsp &nbsp 720 X 400 &nbsp&nbsp 02:41 min. &nbsp&nbsp 38.0 MB

The Dark Lady
Requested by the audience that clearly knows what they want... melodrama.
Uploaded: Oct 12 2016 &nbsp &nbsp 720 X 400 &nbsp&nbsp 05:43 min. &nbsp&nbsp 80.5 MB

Weila Weila
An important message from your Uncle Bilge Pumps
Uploaded: Oct 12 2016 &nbsp &nbsp 720 X 400 &nbsp&nbsp 01:47 min. &nbsp&nbsp 24.9 MB

The Black Ball Line
It's limbo time as we give Jack the Rum Runner a heart attack as he plays it for the first time (ever) on stage.
Uploaded: Oct 12 2016 &nbsp &nbsp 720 X 400 &nbsp&nbsp 02:42 min. &nbsp&nbsp 38.1 MB




Go back to Past Landings page

or on to more pictures of The Bilge Pumps jaunts from 2016!!



| Pirates on the Prairie V 2016 | Mardi Gras Galveston 2016 | Medieval Fair of Norman 2016 | Railean Rum Distillery 2016 |
| TMCA Spring Fling 2016 | Texas Pirate Festival 2016 | Taking the Stage III 2016 | Messina Hof Winery 2016 |
| TCC TLAPD Party 2016 | Texarkana Ren Faire 2016 | Magical & Medieval Faire 2016 | Texas Ren Festival 2016 |
| Louisiana Ren Fest 2016 | Railean Rum Distillery 2016 | Dickens on the Strand 2016 | GP Farmers Market 2016 |



For booking information contact Craig Lutke at:
214-415-9563 or by e-mail at