So... one of the questions I always get asked and for people tend to get a variety of different answers to depending on which ex-member they talk to is... How did the Bilge Pumps get started?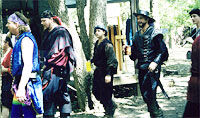 The answer is a long story beginning in the days of the Hawkwood Medieval Fantasy Faire back in 1999 when a bunch of assorted participants and patrons of the faire would just get up and walk around the lanes of the forest, singing what sea songs people knew off the top of their heads, simply to add some atmosphere to the festival and have some fun at the same time. There would be a varying number of us rolling along the dirt paths, anywhere from 5 to 25 depending on the time of day as many of us were busy tending booths, dealing with cast members (Mike and I were both Cast Directors) or putting on assorted stage shows, including the Dragon Attack Stunt Show and the Scottish Caledonian Games. We did manage to aggravate some people as we would occasionally wander too close to a stage (sorry, To the Hilt) or some people just got mad because they thought we were infringing upon the Corsairs (a local pirate band). See? We weren't even a group and people were already hating us. Oh well, at least they've been consistent.
A unifying moment of that time period was when the electricity had gone out at the festival one day and all of the vendors were without juice. Not that big of a deal if you're a craft person, but for Tower Ice Cream, it was a potential disaster. See, Hawkwood took place in August/September in Texas and the temp averaged about 99 degrees that year. Needless to say, they were going to be losing a ton of money if all of their ice cream melted. Our loose collective of singers found out about it and decided to help out by standing in front of the Tower Ice Cream booth and singing our songs while letting everyone know that ice cream was on sale and was going to be melting soon. Very quickly the line began to form as people came to get their ice cream and we stayed there for over an hour warbling bad music into the trees and helping avert disaster for the booth. Eventually, we had to break it up and get back to our real shows, but before we did, the owner of the booth wanted to know what we called ourselves. We told him we didn't have a name as we weren't a real group. He said we should call ourselves the Bilge Pumps (in jest, of course). Little did he know.
Shortly before Hawkwood ended I had the idea to put together an actual stage group that could perform these kinds of songs in goofy pirate garb. I started by inviting Patrick McAlister (Squeegy) and Robert Trotter (Phil) into the band because the three of us had been part of the Scottish Caledonian Gamers, a highland games and comedy troop that performed for a few years at Hawkwood, Muskogee, and West Texas. One of the bits of the show was that the gamers would come walking into the arena singing goofy Scottish-themed filks of songs like Do Wah Diddy and whatnot. We decided while sitting around one day to make even more goofy Scottish versions of songs including such classics as "Hotel Caledonia", "Sweet Home Caledonia", and "Sheep Shag Strut". We even used to get on stage periodically and perform these tunes to unsuspecting patrons and at the occasional pub sings as well. After working with these two guys and creating/performing music with them, I knew they had to be in the new pirate band.
Well, three pirates was not enough for a band to make, so shortly after the festival ended I quickly talked to Mike Younger (Kailyn) who agreed to join the group and also brought in the drumming talents of Evan Cannon (Squint) both of whom had worked for and with me in the Stunt Show.
Soon afterwards we brought in Mitch Newstadt (Mitch) and John Crane Jr. (Crack) and we started some rehearsals to see what we could pull off. We got a couple of rehearsals under our belts and brought in Barrett Tuttle (Elgin) whom had also worked in the Stunt Show with us. The number of the group was now eight. Because of that, we decided to call our ship the Pieces O' Eight and it has remained that way ever since. But what to call the group? Well, after pitching around a bunch of names that never quite seemed to fit like Brethren of the Coast and the like, Mitch suggested we just adopt the moniker that Tower Ice Cream had dropped on the larger group earlier in the year and call ourselves the Bilge Pumps. It just seemed to fit.
To season ourselves a little bit, we decided to visit a couple of festivals and sing for patrons in unobtrusive spots so we wouldn't interfere with any acts. We made a trip to TRF and a trip to Dickens before the end of the year to try out singing together and see how an audience would react to our songs. After our trip to TRF and about 2 rehearsals, Barrett left the band and moved off to England where he remains safely far away today. Well, we decided the pain we caused the people listening to our songs seemed to be manageable and I started looking for gigs to perform at. We recorded three demo songs on an 8 track at my apartment to put together a demo CD and I started hunting. (You might see some of these awful demo songs show up on the Pirate Music Box page in the future).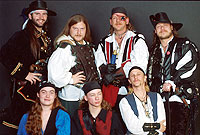 Stunningly, the first gig I managed to get us booked at was Mardi Gras Galveston which pulled in over 200,000 people at the time and we had to put together a two hour show when we barely had two hours worth of material. We came to the decision that we should record a real CD before we did the show (even though we had never performed an "official" gig yet), so we set off the the recording studio to and made the infamous "We Don't Know" CD. It was recorded in one night and mixed in another. Easily the fastest CD we've ever done. So, by the time we made port in Galveston for Mardi Gras, we were ready to rock with a new CD printed and ready to sell, a 2 hour set all ready to perform, and an audience with no clue what they were about to hear. The rest, as they say, is history.
Because it's all for me blog. Me jolly jolly blog.
....Maroon