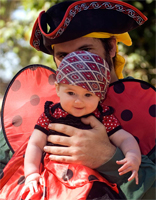 Well, it's finally happened... again... for only the second time in the history of the Bilge Pumps, we're going to end up missing the Medieval Fair of Norman. The first time was because of the birth of my daughter, which you'd have to admit is a pretty good excuse for me. The rest of the band, not so much This time, though, the situation is different, we're going to do another gig instead. (insert gasps here)
Believe us, we don't want to miss the Med Fair, it's one of our favorite shows to do and we consider it to be our "home" faire, even though it's in a different state. However, we were offered something we've never been offered before, a once-in-a-band's-lifetime gig, Tall Ships Galveston.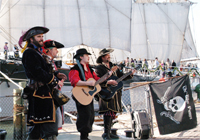 Allow me to give you the back story on this. We were planning on rolling along with our usual application process for Norman and had just gotten word from the immortal and overworked Ann Marie that applications were open, when we got an email from the Galveston Historical Foundation about this new festival in the works. We work for the GHF every year for Dickens on the Strand and they like us and we them, so when a Tall Ships event was put together, we were the first people they thought of to perform there. When they asked us if we wanted to do it, we, of course, said yes. Not just yes, but hell yes! A tall ships event basically in our own back yard? No brainer, there. Then they gave us the date...
So, after seeing that it was going to happen on the same weekend as the Medieval Fair, we had a Sophie's Choice on our hands. Don't do our "home" fair that is one of our favorites or take a shot at doing the type of show any pirate band would want to do? After some deliberation, and vetoing the idea of putting together a "B-Team" to do one of the shows, we elected to go with Tall Ships Galveston and hope that we didn't ruin our relationship with the Medieval Fair.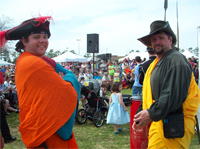 The good news is, the people at Norman understood and would likely have booted us in the nethers had we elected to not do this show. They would have loved to have us up there, but they would have kicked us, nonetheless. Due to Norman's particular scheduling shuffles to avoid Easter weekend and whatnot, regular acts sometimes have to miss a year and they come back strong again. We hope to be yet another statistic in this trend and plan on returning to the Medieval Fair in 2019 fatter than ever... er... bigger than ever.
In the meantime, be sure and let the Med Fair people know you missed us this year, so they'll remember that we weren't there. We promise to not have too much fun down in Galveston... maybe... well, we can't guarantee that.
Because it's all for me blog. Me jolly jolly blog.
....Maroon