Well, we´re rapidly approaching that most fabulous of holidays for those that ply the sweet trade... Halloween! No... wait... I´m pretty sure that´s for more than people that dress like pirates. It must be International Talk Like a Pirate Day!
If you´re reading this blog, then you´re the type of person that is well aware that it's the one day you can fire off piratical-speak curses at your bosses and co-workers and they´ll not only be amused, but be none the wiser at the real meaning of the phrase "Yer good for pounding oakum and nary a licks´ more sea foam, ya dolphin-huggin bilge rat!"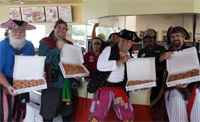 However, for the Bilge Pumps, the holiday thought up by Cap´n Slappy and Ole´ Chumbucket is more than just an excuse to wear our "other work clothes" or scour the town for free donuts and free fish. Talk Like a Pirate Day (TLAPD) has become a money-maker! There is always a business out there looking for that little extra something to push their pirate party over the top on Sept 19th each year (or the nearest weekend to it).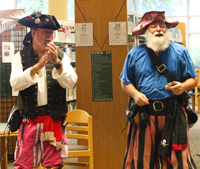 We´ve made many such appearances over the years as the holiday has gained in notoriety and popularity... sometimes even multiple ones on the same day. For instance, last year we were hired to play a college library (while students were trying to study) for their celebration before we scuttled ourselves off to our own CD Release Party. We´ve also done many years of parties at a marina at Lake Ray Hubbard in a thank you to their clients and a generous tax write-off as well. We even did a Hot Sauce Festival in Houston that had a pirate theme due to the holiday. John Crow´s tongue has still not forgiven him for that one.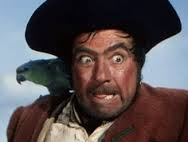 We´ve also been interviewed for various news agencies that want to do puff pieces about TLAPD and love to hear people do their best Robert Newton impersonation. For those that do not know, Robert Newton´s iconic portrayal of Long John Silver in 1950´s Treasure Island is what created the now stereotypical pirate voice. He used an exaggerated version of his West County English accent using the hard R´s and I´s that we know and love. His accent was kept alive by Geoffrey Rush´s performance as Hector Barbossa in the Pirates of the Caribbean movies. We raise a toast to these fellows on the forefront of pirate linguistics!
All-in-all, we´ve enjoyed the extra attention and money we get from this recently-fabricated holiday. I know I certainly like it better than Valentine´s Day or St. Patrick´s Day which both seem designed to take your money via candy/cards/flowers or lots and lots of beer. At least with TLAPD, we can make some money to offset the cost of all the rum! So thanks to Slappy and Chumbucket for the fun they´re brought to the world. We promise not to bugger it up too much.
Happy Talk Like a Pirate Day to ye lubbers and sealeggers alike. May yer rooms at the locker be filled with crans o' treasure for the spendin´ at the bordello on the bottom o' the sea and may ye deliver a blow to Davey Jones' gob so that he nay forgets yer name.
Because it's all for me blog. Me jolly jolly blog.
....Maroon