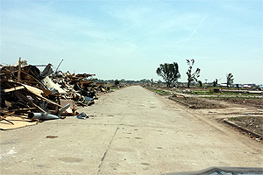 So, as many people know by now from all the hoopla the band was stirring up trying to get the Changing Winds Benefit Concert up and going, I spent the majority of my childhood in Moore, OK. I lived there from 1st to 7th grade to be exact. I went to Plaza Towers Elementary and lived on SW 12th Street, both of which were wiped out by the tornado that hit on May 20th, 2013.
Now, I haven´t lived in Oklahoma since 1993, so most of Moore these days is alien to me and doesn´t look anything like it did 20 years ago, but I still have all those good and bad memories of the neighborhood that make up my childhood. So, although I was not immediately impacted by the storm tearing through the city as I was 200+ miles away sitting at my desk at work, was very much emotionally invested in the goings-on the minute my mother, who still lives in OK, gave me a call and told me about the tornado. I started gluing myself to the streaming online broadcasts from the network TV stations in OKC trying to find out what was going on. Once word started filtering in about the fact that Plaza Towers was hit, I felt like I was drained of blood.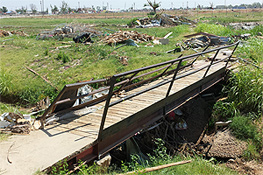 You see, I knew the hallways that the children and teachers all gathered in to take shelter from the twister. I used to kneel down in those myself when I was little, head pressed to the floor, wishing that the tornado drill would hurry up and get over with so I could go back to whatever was important to the 8 year old me. That day in May, I could picture myself still in those halls when that monster passed through, tearing the building to shreds. Incongruously, I kept picturing my now 6 year old daughter doing the same thing even though she was perfectly fine in her own school here in D/FW. It´s funny how you look at things in different ways as a parent.
Once the tornado had passed and the search for survivors began, I kept abreast of the news from Moore and started thinking of ways I could help that didn´t involve taking off from my family. There were first responders pouring in over the city and police had started cordoning off the area to prevent looters and lookiloos from taking advantage of people who had already had so much done to them. Living as far away as I did, I didn´t feel there was much I could do right away.
However, I am part of a pirate band (you might have heard), a pirate band with a big chunk of its fan base in the OKC area due to the years we´ve been performing at the Medieval Fair of Norman. So, I started giving thoughts as to how I might be able to organize some type of benefit concert in the area to help raise some money or goods or whatever might be needed for the residents hit so hard. I pitched the idea to the rest of the Bilge Pumps at rehearsal that week and they all agreed they´d be in if I could get the event to fit everyone´s schedule. Particularly Sharkbait, as he´s originally from Oklahoma as well.
Now, we don´t have the clout of a Blake Shelton or a Toby Keith, but we´re still able to network around to the people who have shared the trenches with us at the successful and less-than-successful festivals we´ve performed at over the years. In fact, if there´s one thing that we smaller artists can do to help, it´s network.
So, first thought was to try to find other bands that might be willing to perform, as more bands means more fan bases to pool up and a larger event to draw people to. I did start contacting other bands from Oklahoma and Texas to help, but without a date or a location in place, there wasn´t much they could commit to. Anyone who´s ever been around a band knows they´re definitely like herding cats and coordinating multiple bands was going to be herding electric rodeo cats, so I needed to get some things locked down first.
First off was to find a location. I checked some of the places in D/FW that might work, but the short notice prevented me from finding any real venues that weren´t already booked up for months with shows, graduation parties, and weddings. I wanted to move fast, as with these natural disaster benefits, you have to move fast as everyone tends to quickly move on to the next tragedy on the news. With nothing local to be found, I reached out to Ann Marie, the organizer of the Medieval Fair to see if she knew a place in the OKC area as she´s worked with organizations in Norman. She graciously emailed people she knew from the Norman Arts Council and asked for suggested locations.
Now, let me take a moment here to focus on Ann Marie a bit more. She not only helped in finding a location for the concert, she continually boosted the signal on facebook to the Med Fair followers, she printed off fliers to hand out at SoonerCon, sent me a list of potential food vendors for the concert, got me the contact info for the Norman Transcript to promote the show, and even brought water & pretzels at the event itself. Bravo and thank you, Ann Marie.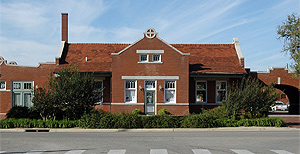 OK, back to the story. So, I spent a bunch of time trying to find and contact the various locations I could dig up in the Norman/OKC area where we might be able to put on a benefit. Most of them were booked up... again. I finally landed on the Santa Fe Train Depot, ran by the Norman Performing Arts Studio. Even though this 100 person capacity venue was initially booked for the weekend of the concert, the bookers hadn´t been heard from in a while, so the PAS generously donated the space to us to use for the benefit concert.
So, now we had an event, and we needed a charity to donate the proceeds to. The typical ones came up, Red Cross, United Way, etc., but they generally are the charities that get the big donations from benefits, corporations, and other big spenders, and, though they do an admirable job supporting the first responders on the scene in a disaster, these organizations don´t really give back to the community once the emergency is mitigated. So where to donate to?
It´s about this time that I got an email from Scott Balliet, a fan of the Bilge Pumps who´s been coming to our shows since our first appearance at the Med Fair in 2000, bringing his family in tow. We´ve watched his daughter grow up from knee high to the lovely High School graduate she is today. He knew I was originally from Moore and, big-heartedly, wanted to check and see if my family was all right. (They are BTW, as they live in Paoli, 30 minutes south of Moore) Then, as kind of an aside in the email, mentioned that his home was completely wiped out. My jaw basically dropped on the space bar for a few seconds as I read this.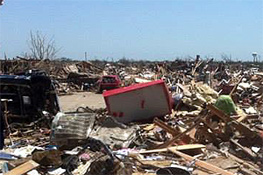 Now, my first response was shock and sadness, then quickly it was replaced by excitement. Now, don´t laugh. I have no problem admitting this for I felt I had found someone to try and raise funds for! I didn´t want the concert funds to feel like putting a drop in a bucket of a big charity and I didn´t want to feel like I was helping pay the CEO´s salary of the Red Cross. So I wrote Scott back and asked him if it was cool if he and his family would be the target of the donations raised at the benefit. He agreed. Now, granted, at this point, it was just the Bilge Pumps for sure that would be participating, so it might not have been much money.
The only way to fix that would be to bring in some more talent! With a date and a location in tow, I reached out to the first band I wanted to be there, Tullamore. There are many reason, you see. #1, They are friends of ours and are good people to boot, #2, Scott is a fan of theirs as well and likes to chat them up in between shows at Med Fair as he does us, #3 they´re a good draw from their years performing in Norman as well. Once they agreed, I started to contact local bands in the area as they´d be more likely to donate their time and talent for their neighbors and they wouldn´t have as far to travel.
One of the bands to immediately reply back yes was Black Oak Shillelagh, another performer band at Med Fair who were all about trying to help and eager to help promote the show the minute they were on board. I tried to get in touch with Boru´s Ghost, not knowing they were no longer a band (I live in Texas, ya know), but did get in touch with John and Leah McGaha, former members who now had a new band, Tynear. They climbed on board just about the time I was put in touch with Dr. Rev Mr. Cheeks Miller, a former stage-sharer at the Scarlet´s Ren Fest years ago in OKC. Cheeks lives in Tulsa, but was more than willing to come and lend a guitar and voice to the shindig. Christie from the belly dance troop A Mirage Dance Company contacted me as well to volunteer her group to help out however they could.
At this point, the promo had begun and the social media buzz had begun to spread. The Moto Chef Mobile Diner was brought on and graciously offered to give a portion of their take from the event to the Balliet family. (Their food was awesome, too. Just ask Mary and Rachel from Tullamore) People also started donating things to us unsolicited to help out and my wife suggested we start putting together a silent auction of goods from people who might be more able to donate goods than cash. We ended up with over 50 items donated!
Now, I was hoping to make the event larger than the capacity of the train depot, much to the chagrin of the Norman PAS, so a friend/fan of the band, Celie, who works at the Oklahoman, took the press release I sent her way and started badgering her co-workers and bosses until someone there printed an article in the paper´s June 28th Features section. She even used her contacts to buzz people at Channel 5 News in OKC, who made a mention of the benefit in their morning show on the day of the benefit. Thank you Celie!
Now, the day of the event was here and it went off as smooth as was possible due to the amazing help of the other Bilge Pumps, our family, and friends. Harvey, Sharkbait, John Crow, and Splice helped get everything set up and took turns manning the door with the pitcher for donations. Natty Nell took over the silent auctions and drink sales. Fanny took over the merchandise sales (naturally), and even did some selling for some of the other bands there. Our friend Michael volunteered to take over the sound board to help the bands sound as best they could. That wasn´t easy in that echoing, big-ceilinged chamber.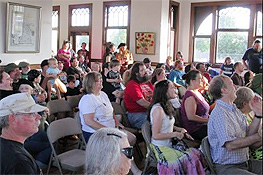 After all was said and done, the concert went great, the bands rocked the joint, everyone was exposed to some new music, people got some good food, and people gathered together in the spirit of helping one of their own deal with a devastating event. I know I risk sound like Linus in a Peanuts cartoon, but it´s nice seeing that people can rally around a neighbor in need and pitch in with not just money, but the sense of caring and community that is seen less and less in our digital, stay-in-the-home world. I wonder how much the money helped vs the sense that people do care for a family in need.
That being said, just under $2000.00 was raised for the Balliet family from money given directly, silent auction purchases, donations from the food truck, and donations from the band´s merchandise sales. All in all, it was nice outreach of friends, family, fans, and volunteers that made a lonely little section of City Park in Norman turn into something stellar for 5 hours last weekend.
I know I won´t forget it.
Because it's all for me blog. Me jolly jolly blog.
....Maroon