Well, our new CD, "The Idiodyssey", is finally released to the tens of adoring fans out there looking for more pirate music in their world. It was the result of a couple of years´ worth of work, struggle, and fun, and we think it´s been well worth it. "How did this album come about", you ask? Well, let´s dive in, shall we?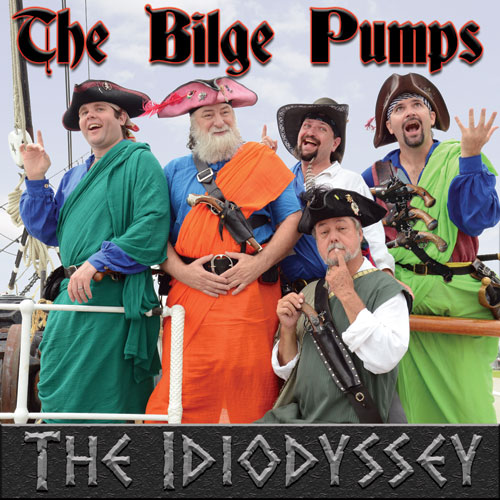 First off, lemme talk about the quality of the album. I think it´s the best sounding album we´ve created and the one that is the strongest from start to finish in terms of quality of songs. There isn´t a "skip-over" track on this album for me (and believe me, there have been on other albums). In fact, the Bilge Pumps have had a rep for the past several years of being a band that puts on great live shows, but only so-so CD´s. That was partially brought on by the debacle that was our "Broadside Buddies" album. That album had many different factors aligned against it being a solid offering that probably deserve their own blog post one day. Suffice it to say, it wasn´t our best work and there´s a reason it´s out of print after selling out its first run. Then, after a few years of member turnover and general malaise, we finally recorded "A Pirate´s Christmas Wish" in our newly built Sweatbox Studios and put out an album we could be more proud of. It still has a handful of things I would change if I had the chance to go back and do it again, but it was very much a learning album for us.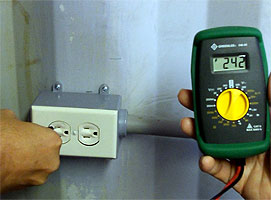 Now, for "The Idiodyssey", we built upon what we´d learned doing the Christmas album. We had to figure out how to use our new studio the best we could, and made improvements on it, things like permanent A/C and outlets (though John Crow almost blew us up doing that... see pic on the left), better seating, storage, and aesthetics. We also learned about all sorts of things that professional producers already know, things like the best way to use a combination of mics to record acoustic guitar and drums. We also spent more time to record every person´s vocal tracks individually to be able to get a better mix and better editing of the vocal blend. We learned how to use the compressor/limiter built in to our board to get a better incoming signal from vocals and percussion. I have to throw some thanks to Patrick McAlister (aka Squeegy, Sir Not Appearing on this Album) as we plumbed his brain for all its freshly implanted recording knowledge from classes he´d been taking. I also learned a great deal more tricks and techniques for doing the mix down of the song audio track in the software I use. In short, we just got better at recording on our own.
All of this came about because we spent our most precious resource in getting this done... our time. If we had been under a time crunch and trying to get this out as quickly as possible (ex: "We Don´t Know", "Broadside Buddies", and to some extent "A Pirate´s Christmas Wish"), then we wouldn´t have had time to learn the things we needed to learn to make this album as solid as it is. However, because we took long breaks between recording sessions, we got a chance to really rehearse the new songs that appear on the album, and in most cases, we had the opportunity to try them out in front of an audience at various shows throughout the year. That´s always a good thing to do.
My favorite songs on the album are "The Royal Oak", and "The Mermaid", both in how they sound, and in how they take the way we´ve heard these songs for years and kind of flip them on their heads. "The Mermaid" that most of us have ever heard, was always a happy, perky, pub sing song that people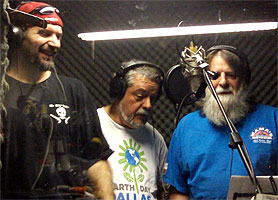 had been on us for years to do, but we just flat out refused because we really didn´t like it as we´d been bombarded with it for years. When it came time to select songs to do on this album, we decided to take the song back to its tragic roots, slowed it down, put it in a sad, minor key, and added some solid emotion to the vocals. I´m really proud of the way it turned out and look forward to the day when someone asks us to perform "The Mermaid" at a pub sing and we drop some jaws with our version. "The Royal Oak" is pretty much the opposite, as it takes a previously slow, sad song and gives it a driving rhythm with the faster drums and Sharkbait´s great guitar work. The vocals are just as slow as they normally are on the song, but the music is faster, and more uplifting, as we think it should be for a song about an improbable ship battle in which the teller won. The dichotomy of the slow vocals and faster music is a deviation from most folk music and it adds something to the recording. We even changed one of the verses to be a chorus and added lyrics to each chorus to help tie the song together... like the Dude´s rug.
This album was a chance to bring back songs from our out-of-print albums and keep them alive, including everyone´s fave, "Johnny Jump Up". This is the first version of the song we´ve recorded in the studio that has the energy of a live show. (You´ll just have to imagine us dancing in your stereo) We also made greatly improved versions of "The Ballad of Sam and Marie", "The Pump Shanty", "Pay Me", "The Ballad of Captain Kidd", and others.
We even included some bass for the first time on "Ranzo Ray", and "Bonnie Ship the Diamond (Remix)". The latter song only appears in our Deluxe Edition of the album available only for download on our site. The Deluxe Edition also has a re-do of "Congo River" and, after all these years, "The Queen of All Argyll". Why not include them on the CD? Well... because... that´s why. It´s something new to try out, and if it doesn´t work, we won´t do it again.
Now, some of you might be disappointed that there is no bonus track on this album... the first one of our albums that has no bonus tracks on it. Well, there´s another story there as well, but it´s probably too long to include on this blog. I will say this, though: we recorded one... a really good one that I´d been wanting to record for years... and although it´s not on "The Idiodyssey", you´ll hear it in the future.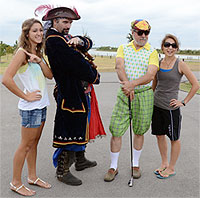 Lastly, I have to say something about the fact that we have released three music videos (so far) in support of this album, "Ranzo Ray", "The Mermaid", and "Bonnie Ship the Diamond", and we´re pretty proud of them. They were shot on the Tall Ship Elissa down in Galveston on a hot, hot day in July and also at Stewart Creek Park in The Colony where Pirate Days of Texas used to be held. We ended up shooting all three music videos in about 10 hours´ time combined, so they might not look like MTV videos, but we don´t have their budget, either.

We hope that many, many, many of you get a chance to pick up a copy of the album, either on CD (here) or download (here, iTunes, Amazon,etc.) and feel free to let us know what you think. We are attention whores, after all, or we wouldn´t be dressing up as pirates and making asses of ourselves all the time.
Because it's all for me blog. Me jolly jolly blog.
....Maroon