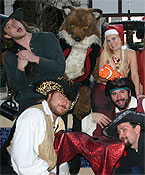 Working on the newly re-done Past Landings page and seeing some of the gigs therein, got me to thinking about doing another blog of stories from road trips we've taken through the years. This one is all about the weirdness we ran across while performing at the Scarlet's Mid-Winter and Mid-Summer Renaissance Festivals from 2005-2008 in Oklahoma City.
I must start with one of my favorite stories about the festival... on the first year they moved from the State Fairgrounds to the Farmer's Market, we were enjoying a lovely day in the upstairs area we claimed as our own when we saw snow come falling down from the sky. Now, we've done plenty of faires and festivals in the winter, but usually in an area that stays warm enough to not get frozen water falling from the sky, but in this case, we not only got to see the snow falling through the enormous windows that surrounded the upper floor, but we were able to enjoy it while basking under the vents billowing out warm air on our delicate little pirate bodies. Very nice.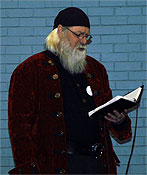 Another great story about that festival was in 2005, when we first did the show, we were still breaking in the oh-so-stiff John Crow to the show and he still didn't have an idea of about 1/2 of our songs. It's tough to teach someone 100+ new songs in a handful of rehearsals don't ya know? So, we gave him our official Pirate Bible, the leather-clad tome you'll see us occasionally break out on stage when someone has forgotten (or never learned) the lyrics to a song. In this case, the song was the Queen of All Argyll, and John Crow had no idea what the words were... or apparently any idea of how to spell it, because he spent the majority of the song flipping pages in the book, trying to find the song in it, while moving his jaw randomly in an attempt to sing along. The best part was the fact that he was caught on video doing all this! Check it out here.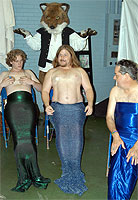 Then, to make things even stranger, when we returned to the festival in 2006, the Bilge Pumps got some serious tail! Mer-tail, that is. After all, whenever you had Scarlet the Fox around, you had mermaids nearby and, at the end of one particular festival day, they made the mistake of telling the band that their tails were able to fit almost any size. Next thing you know, almost the entire band was decked out in scaly finery, flipping their fins around, and generally adding to that funky dock smell that wafted over the place as people were trying to exit. Only John Crow and I made it out with our egos intact, but that's mainly because I was busy trying to hunt down our paycheck and Crow had to take the pictures.

Then, during the one year they tried doing a Mid-Summer festival in addition to a Mid-Winter one, they got stuck in a certain building in the fairgrounds with high, arched, wooden beamed ceilings that were very cool to look at, but had zero acoustical value. That was the year, they decided to hire a bagpipe band for the first time, and it didn't matter where we happened to be singing at the time, the bagpipes would just drown us out like Phil doing a cannonball in the deep end. (shudder)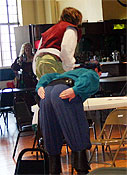 There was also the story of a certain band that shall remain nameless (and should have remained soundless) that managed to get into the Scarlet's show by name-dropping us to Robert (one of the owners) and telling him that we were big supporters of theirs, had shared a stage with them, and just basically showered them with buckets of love meringue. All untrue, unfortunately, but by that point it was too late, because there they were already hired and warbling their best on stage to crowds of solid twos and threes. One time John Crow and Fanny went and sat down at their show because they felt bad that there was no one in their audience. They proceeded to announce their next song was one the Bilge Pumps do, but that they happened to do much better. Then broke into some insane version of "All For Me Grog" that forced Fanny to get up and leave. John Crow stayed and smiled through the whole thing, though. He's that way. He enjoys loving punches to the face and jalapenos in his underwear as well. What can you say? He did join the band after all....
Because it's all for me blog. Me jolly jolly blog.
....Maroon