So, here we are in year three of the Great Recession and despite the Wall Street upticks and general upward trending,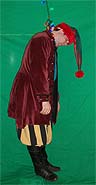 the economy still sucks and joblessness is still rampant and people are still scared. What has that meant for the performers and crafters out there in the world of the ren-faires? Well, no one knows for sure since it's not like we all sit around and talk sales statistics with one another (although some of us do), but it's pretty obvious that CD and merchandise sales are down recently compared to previous years. Truthfully, I think it's the same for traditional brick-and-mortar stores and web sites despite the BS sales figures we get fed all the time. There's a reason why Black Friday is such a cutthroat, competitive, freak show these days... businesses are desperate for your money. Sometimes it's just greed (investors have to see sales growth in their stocks regardless of how much money a business is making) and some of it is a reflection of the dire straits of lack of income. Small businesses (and independent musicians) around the world are hurting because people are obsessed with bargains and won't buy anything that's not at a "discount" unless it's a staple product (food, clothing, iPads).
Where does music fall in that list? Pretty low down, I think. I don't know how it's been for the majority of other bands out there on the circuit, but the ones I have spoken to have said their CD sales are down this year compared to last year and even lower down compared to 4 or 5 years ago.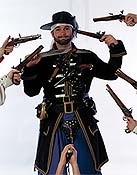 I know our sales at our gigs have been down about 30% compared to last year. Granted some of that has to do with the type of shows we've done this year, but it's still a pretty big drop. Even worse are the online sales which are at a 40% drop in sales this year. Now last year, we had a new CD get released so that always adds to an uptick in sales as everyone wants to get the new stuff. In fact, not a show goes that we don't have someone ask us if we have a new album out. Another factor in the declining sales is the decreasing popularity of CD's as well (which will be another blog). Regardless of reasons, it seems that people are less likely to buy music they like from the artist because they don't want to spend the money on it. It doesn't appear that attendance is down at any of the festivals we perform at. In fact, if anything, the patron numbers are either flat or up this year. It's just that people are more likely to spend their money on food and drinks at a festival instead of a hand-carved bowl, a hand-made frame, or music from their local "starving artists".
This might sound all whiny (and in a small way, it is), but it's more along the lines of things that make you go hmmmm.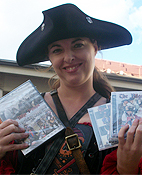 Some performers do well at promoting themselves and getting decent performance fees and tips (Some ren-faire shows are nothing but 30 minute long tip collection events) and they don't care much about merchandise sales, while other performers just try to do the best show they can and hope that people will come along and buy a CD or T-shirt or whatever they are selling. Now, I know that the walking advertisements that are T-shirts are about the last thing some of you want to wear around (ours are here, BTW), but for some acts, like sword-fighting shows, it's all they have to sell. However, if you think you'd like the things you see a performer sell and you're not sure if you'd like to spend the money on it, I encourage you to impulse buy from the little guy and get something unique instead of paying for stuff at your local S-Mart that you don't really care that much about just because they're on sale. Food for thought... and that'll be $9.00 for that turkey leg.
Because it's all for me blog. Me jolly jolly blog.
....Maroon