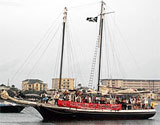 Time for another set of tales from the road. This time, I'm reviewing some of the fortunes and misfortunes from our latest road trip: the 12-hour trek down the US highway system to visit the northern Florida Gulf Coast and Ft. Walton Beach, the stomping grounds of Captain Billy Bowlegs and his 56th visit to the city and his yearly kidnapping of the mayor and tossing of a hold full of beads on the eagerly awaiting (and some unsuspecting) fauna.
The most memorable thing about this trip was the case(s) of the missing keys. It started sometime Friday afternoon at the festival when the sound guy started announcing that they had found a set of missing condo keys. I didn't think much about it since I just knew I had mine safely in my trusty pirate pouch. However, later that day, I finally noticed my copy of the condo key was gone, so I went to see if the found one was mine... it was not. Therefore, we had an entire evening of us trying to go over the places where I might have lost it. Not to mention an entire evening of Sharkbait fretting about someone going into our condo and casually removing all of our stuff and sailing off into the sunset. We had no luck finding the keys anywhere that day or night. Then sometime Saturday afternoon, Fanny found them in the leather box she uses to sell CD's out of. How they got there, no one still has any idea. Oh well, at least they were found... not so for Harvey's rental car keys.
Now, Harvey had his heart in the right place. He and his wife decided to fly in from Dallas to Valparaiso, FL (about 5 miles north of Ft. Walton Beach) whereas the rest of the band drove our vehicles. He decided to opt for a rental car for 3 days instead of calling one of us when he got in to come pick them up.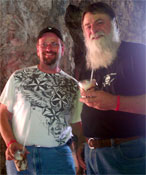 Very sweet of him. Problem was, sometime on Friday, the sound guy started announcing that the keys had been found to a rental car, an Acura. No one thought much about it since their car was a Kia. The announcements went on about the found keys for the next day and a half and none of us thought to go and see about them. On Sunday morning, though, when it's about time for them to go back to the airport, it's discovered the the keys are missing. Sooooo... we call the event organizers to see what happened to the keys. Problem is, no one knows or can find them. A nasty, nasty squall came ripping through the festival on Saturday evening and right before that was the last time anyone saw the keys. They were gone. We looked around the grounds on Sunday and contacted all the people who had touched them at any point, but no go. Harvey ended up having to pay for the car to get towed to Pensacola and pay the exorbitant lost key replacement charge. Not the best way to finish a vacation for them. I guess the lesson is, nice guys finish last... I mean lost.
Speaking of that rain squall, we got a story for that, too. We were all set for a 2 hour set to finish out a day of singing. We had just stepped up and finished sound checks and looked over the audience's left shoulders and saw the gray smudge of a cloud line rolling in. By the time we finished our third song, the wind had risen to the point where the sound guy called it quits on the amplification due to fear of electrocution and/or total destruction.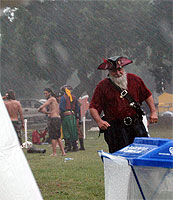 So, being the pirates with the complete lack of self-respect that we are, we rolled out into the audience to sing directly to them. Now, granted, the audience had been reduced to about 10 people by the cold wind and sprinkling rain, but they were the dedicated and possibly inebriated audience, and they needed a show. So, we broke into "March of Cambreadth" and "Congo River". By the time we were finished with that, the rain was hitting us so hard in the face, we couldn't look up at the audience without going blind, so it was definitely time for "Johnny Jump Up". Some tribal dudes came over and helped drum in the rain, and when the song was over, we gave them all a fond farewell and ran to go check on our booth and try to keep it from blowing away in the storm. We've performed in the rain before before, but that show was like stepping into the ocean to sing. Let it be known that this is the first time we've performed "Congo River" after it rained. I'm sure a black hole opened up somewhere because of it. I was stopped later in the evening by two of the people watching that drenching show and they said it was something they'll always remember as they were there specifically to see us after watching us the night before.
One other thing that might only be interesting to me, is that we ended up setting up our booth next to a vendor at the festival who was selling a book that she wrote.

Her name is Marti Melville and she was selling a book called Midnight Omen Deja Vu. While talking to her, she kept looking at me askance until she finally told me she had to get a picture with me since I was the spitting image of the dastardly pirate in her book, Captain John Phillips. I thought that was pretty interesting, so I bought the book and had her sign it. Haven't gotten to the part yet where Capt Phillips shows up, but I'll make sure to put the best spin possible on his roguish sensibilities.

However, I'd have to mix in a little bit of Sharkbait's grouchiness to the character as well since the author stopped him at Pirate Days of Texas last year and told him that he was what she envisioned her character being. I guess us pirates all look the same when it comes down to it. Except for John Crow, he's in a league all his own.
Because it's all for me blog. Me jolly jolly blog.
....Maroon