Well, it's been a while since my last blog and I apologize for not getting one out sooner. I would promise I'd get them out more frequently, but I'm not going to lie to you all (despite being a pirate and everything), so I'm not going to.
If you've been wondering what's been happening in the world of Bilge Pumps recently, I'll tell you. We're working on a new CD! And current plans are to make it a double CD! That's twice the music in one small package, though it's not going to be twice the new music. Now, you might ask me, "What do you mean, Uncle Maroon?" Go ahead and ask, I'll wait.... Why, I mean that one of the discs in this set will be a re-recording of the songs on the "Broadside Buddies" CD. We've sold out of the first run of the BB CD and aren't planning on making another printing of it, though it will still be available digitally both on our Pirate Music Box page and on Amazon and iTunes. So, for those who own a BB CD, congrats! You now have a collector's item.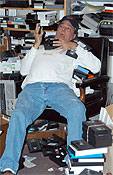 Now the obvious question is why not just do a new printing of the BB CD like we do on all the others? Well, we were never really satisfied with the quality of "Broadside Buddies". When we recorded the CD back in 2006, we were rushed to get the recording out due to the fact that Mother Dubbers, the studio we used for all of our prior recordings, was due to close its doors in about 2 weeks from the time we began recording. As a result, we rushed through the recording sessions and never really feel like we did what we were capable of. It wasn't a bad recording, but it wasn't up to the standards we had set with "Greatest Hits Vol. VIII" and "Brigands with Big'uns". Our aim is to correct that mistake now that we have our own studio and the ability to take the time and do things the way we want to. Plus, for the price of re-printing the BB CD, we could spend just a bit more and get a new CD set done with versions of the songs from the BB CD included that we can be proud of.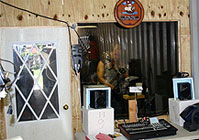 The process has already begun as we already have five songs in the can recorded at our own Sweatbox Studios, including a brand-new song that we've only sang on stage once. Some of these newly recorded songs will be available for download from our website as we get them mixed and polished for use as an appetizer for the smorgasbord to come. I would tell you which ones have been done already, but then everyone would know and I wouldn't feel as special with all my secrets and whatnot.
So, "Broadside Buddies" has joined "We Don't Know" on the list of out-of-print recordings for the Bilge Pumps. What's next to disappear? That's easy! We only have a handful of the "Live Crabs" DVD's left and once those are gone, there ain't gonna be no more.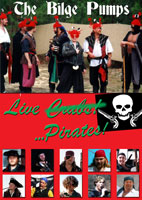 We feel that the 2-disc "Sail! Everything Must Go!" DVD far outstrips the LC DVD and even features some songs from the same gigs. That means it's about to become another piece of bilgy history. Once it's gone, we'll have only 3 CD's and 1 DVD left to sell until the new CD is really to released upon an unsuspecting world.
What's that? Don't have a "Live Crabs" DVD? Well get on over to our Treasure Island page and get one before they're gone forever. You say you don't have a "Broadside Buddies" CD and just have to have one? Well, you're in luck. We might be sold out, but there are still some online retailers that carry them, including Sablewood Village and The Pirate's Cove. Now's your chance to snag some Bilge Pumps lore to scare your grandkids with.... not that they'll know what a CD is when they get older.

Because it's all for me blog. Me jolly jolly blog.
....Maroon