We did it! Our first, fully in house produced CD, "A Pirate's Christmas Wish", is now out and gathering up flies in the world, both in the real world and the cyber world. There's no stopping it now. It's like a yule tide version of the plague, infecting the ears and minds of all of those who listen to it. And now that it's working its way into history, it's time we fill you in on a little more history... the history of the greatest pirate Christmas CD to ever expose itself to the world! (However, we think it's the only one, as well)
As many of you know, we started the concept for this Christmas CD many, many years ago.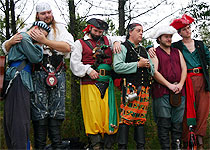 In fact the whole roots of it came from when I received a call from Alvon, the Owner/Entertainment Director of the Louisiana Renaissance Festival when he asked us to submit a song for their Renaissance Christmas compilation CD back in 2004. The gang got together back then and did a one night recording of "Pirating a Winter Wonderland" that became our first foray into the pirate Christmas world. The song became a favorite for us to perform during the holiday season, especially at Louisiana and Dickens on the Strand, but that's as far as we went in the Christmas world for a while.

A couple of years later, one of our wholesale vendors out in California wanted to hear that CD and wondered why we didn't do an entire album full of pirate carols. I told her I didn't really know. Soon our own beloved Harvey the Corpsman got to work piratizing the snot out of the beloved Christmas carols that we've all heard waaaay too many times in our lives. Next thing you know, we have a pack of songs with all sorts of double-entendres and nautical references packed throughout. We rehearsed a couple of them in the hopes that we would do more of them in the holiday season... and then they sat.... and sat.... and sat...
Now, one of the reasons these songs were sedentary for so long was that we were going through our usual high member turnover and were taking the time to get the new guys up to speed on our current songs while working out the new arrangements for them. We also cranked out the Broadside Buddies CD and the Sail! Everything Must Go! DVD during that time frame. Luckily, much of the equipment we picked up to produce that DVD helped pave the way for us to make this Christmas CD as well.
So, here we are, with a stable line up and a light 2010 show schedule. What do we do? Well, the thought of hiring another studio crossed our minds, but our experiences in recording the Broadside Buddies CD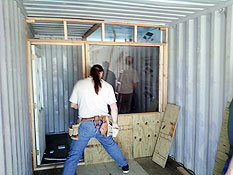 kind of soured us on paying for studio time that wasn't giving us the bang for our considerable buck. Especially now that we had recording equipment nice enough to lay down our own tracks without having to pay someone else to do it for us. We thought about recording in our houses, but those of us with young kids know the impossibility of having a sound proof room in a house full of frolicking children, which is what happens when Sharkbait's and my family get together. So, where to record? Well, John Crow the Cook came to the rescue when he purchased a 40 foot long shipping container and had it placed on his land out in the country in Alvarado. The Bilge Pumps "appropriated" the end of one side and set to work constructing a small recording studio.
Did it have its issues? You might say that. Since our dead time this year was in the summer, it regularly would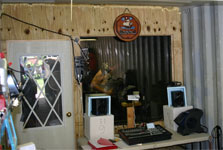 get to 100 to 110 degrees outside on the weekend days we were recording, and a dark colored steel box is just about the perfect vessel to absorb all that heat and cook the inhabitants therein. To top it off, the recording booth was small enough and the equipment was sensitive enough that we couldn't have a fan or A/C blowing in the room when recording, so anyone actually recording would usually be sweating buckets and on the edge of hyperthermia the whole time they were in there. Needless to say, it could make for a frustrating day if something wasn't going quite right and the temperature was climbing into the realm of a supernova. Hence the name Sweatbox Studios.... at least until we record in the winter there when it will become Icebox Studios
It took much longer to record this album than all of our others combined because: 1) We had the time to spend since it wasn't costing us $50-$75/hour for studio time. 2) We were spreading out the recording sessions in order to properly rehearse the arrangements of a group of 2 or 3 songs at a time so that they would sound clean (or at least as clean as we can sound). One of the problems we had with the Broadside recording sessions is that we had to get all of the potential songs for the CD rehearsed in our brains and get them all laid out as quickly as possible in the studio due to time constraints, so it wasn't as polished as we would have liked. We weren't going to let that happen on our next CD, so we took our time.
Once the recording was finally finished it was time for the mix down, which, as anyone who's ever done a recording knows, can be the most brain-draining step in the process. I spent a long, long time (soaking up any spare time I had for sleep) doing the mix downs for each of the 31 tracks on the CD. Some were easy enough, but others took almost the entire length of mixing time to get where we felt it sounded right. Luckily, I could rely upon the hyper-sharp hearing of Sharkbait to pick out any issues with the mix down that would escape my human ears. Weeks and weeks later (and two computers and a new set of software later), we had a mix down to go to the press... finally
So, now it's come down to this: the CD is out there and we think it has potential to appeal to a much larger audience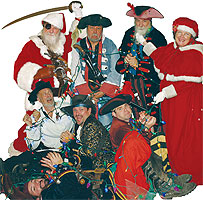 than would normally listen to sea shanties and nautical music due to it's Christmas nature and the everlasting allure of pirates. So we're hitting up radio stations both local to D/FW and the satellite stations such as Sirius/XM and Music Choice to try and convince them to add a song or two from the CD to their rotation. What we need help on, though, is gathering up the contact information for the radio stations around the country that play Christmas music each holiday season. If any of you could either comment on this post or email me with the station names and cities they're in along with contact information for the programming directors, if possible, we would definitely be very appreciative. We're going to need the support of all our fans if we want the whole country/world to hear the joy of a pirate Christmas... and get them all to come buy our CD's as well.

Because it's all for me blog. Me jolly jolly blog.
....Maroon