Time for the second of these tales from the road and since the OU Medieval Fair is coming up, we'll make this edition about our travels back and forth to Norman. Now as anyone who's been in Oklahoma in the Spring can well imagine, a bunch of these stories are about the weather.

One year, ( I want to say it was 2006), I was hauling a bunch of band members in my SUV up I-35. Since there were so many of us, I had to use a present I'd received from my wife, a rooftop luggage bag, to pack everyone's suitcases in since I didn't have enough space in the bag for those and all the band gear. Somewhere around Ardmore, the skies opened up (though they might not have been all the way open. It was night and I couldn't see very well) and a deluge of rain came pouring down, cutting visibility to about 15 feet and slowing the traffic on the highway to a crawl. Then the wind kicked in, using that roof bag as a sail to try and pitch the car back and forth across the highway. By the time we reached the Arbuckle Mountains, the rain had lessened and we continued on our way to my mom's house. Once we reached the house, though, we found that the zipper keeping the bag closed had come opened a bit during the trip and the rain resistant bag had water all pooled in it. To top it off, the plastic lining in the top of the bag had become soaked and beaten by the wind and had cracked and rotted off the fabric, essentially adding gritty black plastic to all our belongings and forever removing "rain resistant" as an adjective when describing the bag. Let's just say my mom's dryer was working OT that night before the festival.
Let's rewind a couple of years to the first year we did Norman, 2000. It was Thursday night and we'd arrived at my mom's house, and instead of eating her out of house and home, we headed into Pauls Valley to grab a bite.
Well, it was kind of late, so the only place open was a greasy spoon truck stop diner. We all bellied up to the table and started looking through the menu looking for what to order. Someone said they wanted a grilled cheese. Upon hearing this, Evan leaned over to my wife, Terrie, and asked her what a grilled cheese was. She explained to him it was a grilled cheese sandwich, not just a piece of cheese you put on a grill in a vain attempt to keep it from melting through the grill grates. This, of course, got everyone laughing, and Terrie told the waitress that Evan didn't know what a grilled cheese was. The waitress gave him a double-take and then took our order and walked away, continuing for the next few minutes to give scandalous stares at Evan until he basically shrank into a ball of mortification. Then, she brought out the orders to us. Evan had beans as a side dish to his plate and the waitress told him as she set his order in front of him to not touch the bowl of beans as it was hot. He promptly reached for the bowl to set it off to the side and she slapped his hand before he could grab it, and said "I told you it's hot!". Evan promptly snatched his hand back under the withering stare of the waitress while the rest of us fell off our chairs laughing. I don't believe he even looked hard at his beans for the whole meal. For those that are curious, that's the bases for Kailyn's barmaid joke during the skit before the Derelict on the Greatest Hit Vol. VIII CD.
Then, in the same year, another fun story happened. Well, it was funny only if you're not one of the ones in the story. Patrick (Squeegy) and John (Crack) were heading up on Friday night instead of Thursday due to work and whatnot and they took John's van up to Oklahoma.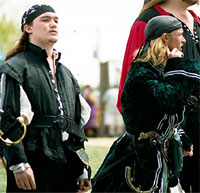 Well, somewhere through the town of Paoli, John got pulled over for something, speeding, I think, and only then decided to inform Patrick that he had some illegal contraband on his possession. Needless to say, he was arrested, with a petrified Patrick (who was all of 18 and afraid of cops) watching it all happen. John was then jailed in Pauls Valley, with Patrick forced to follow behind the police in John's van to the courthouse and bail him out with over $200 of his own money. This took a few hours and the result was them both rolling into my mom's house late night with John cracking jokes about needing to pop some pills and Patrick silently fuming. To top off Patrick's part in the horrible escapade, he never got paid back for the bail money. The rest of us didn't even know what happened that night until we booted John out of the band a few weeks later and Patrick finally fessed up. Ah, now that's good times.
Because it's all for me blog. Me jolly jolly blog.
....Maroon