Well, we're always regaling ourselves with stories about things that have happened to the Bilge Pumps in the past on our frequent road trips (just ask poor Splice, who has to hear all these stories multiple times every weekend since he's the new guy), so I thought some of these tales of woe and whoa might be fun to share with you all as well. 'Course, that means you'll have to stop us when we start trying to tell these stories to you in person, since you will have already heard them and all. We might not stop, as it's hard to stop a good story, but at least you'll have a reason to get that glassy look in your eyes and we can't be offended.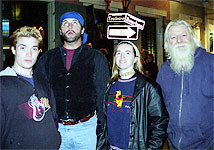 Since we just finished with Louisiana and it tends to be the longest road trip each year, I figured this first set of tales from the road will be about things that have happened to us going back and from from D/FW to Hammond. This year, the trip back was pretty uneventful, but a couple of interesting things happened on the trip down. As I have documented before, I do love me a good claw game and I had been hyping up the claw game in Breaux Bridge that I always have good luck at to Squeegy and Splice on the way down. So, of course, we had to stop there and I gave it a crack. Pow! Right off the bat, I got me a stuffed monkey for my baby girl (which she loves, BTW. Thereby validating my waste of time/money on these games) which I then proudly waved about for the rest of the gang to see. Well, Sharkbait's wife immediately had to go attack the claw game to try and win something for themselves, but no go. I had done used up the mojo in the box. They were left grasping at air. Mwah ha ha! Of course, my karmic payback was a short time coming as it began to rain on us pretty hard on the way down I-49, though I was sure our gear would be fine on the cargo carrier, as we had wrapped a tarp around our suitcases. Oh no. We got there and saw that water had pooled in the bag under the tarp and soaked mine and Squeegy's bags to where 1/2 our clothes were soaking wet. That meant I was up 'til 3:30 in the morning drying clothes at the truck stop next door while wasting even more money playing claw games whilst I waited. (sigh)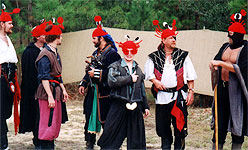 That's just this year, though, Louisiana is generally full of crazy road trip stories. For instance, the mighty crab hats we're all sporting on our Live Crabs DVD we found at a gas station in Natchitoches late one night when we were all highway hypnotized. We thought there could be nothing better to spend our money on than cheap felt crab hats. We were probably right. That's the same gas station where Squeegy and Mop had their infamous run ins with the extremely frozen fudgecicles where Mop got his lips ripped up and Squeegy lost a taste bud off his tongue from the two of them getting frozen to a children's treat. Also, somewhere on that trip is when E showed the band his infamous "bosun dance" that Harvey uses to this day on the last verse of "Johnny Jump Up". Who would have thought that idiotic dance would have such longevity in the show?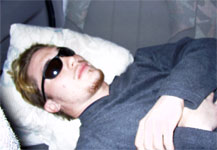 Of course, not everything on the trips is crazy. Sometimes being stuck in a car for 8 hours can bring out the creative juices in ya. One the way back from a trip in 2000, Squeegy and I came up with our arrangement for "The Flying Cloud" while we made Squint drive (which he hated). Sometime later that year, the over-tired gang of goobers riding in my Durango came up with the concept of the rhyming city names on Donkey riding by making up verses to go along with the crazy creole city names in Louisiana. It took about 100 miles of this crap before we finally looked at each other and decided that we had a winning idea on our hands. Also on the way back from Louisiana came the concept for our Inquisitioner T-Shirt where we kept pitching headlines back and forth for the fake tabloid and I recorded the best of the ideas into my cell phone so I could design the shirt later.
I'm sure I'm missing a ton of good stories from the many thousands of miles we've driven back and forth to cajun country, but I'm sure the guys will remind me of them later and I'll do another Louisiana version of tales from the road.
Because it's all for me blog. Me jolly jolly blog.
....Maroon