It's been a busy summer. Not for the band, obviously as we haven't done a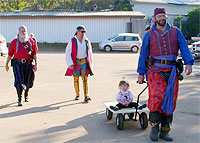 show since Scarborough last May, but for me personally which is why it's been so long since I've had a blog posting. However, one of the side effects of this off-summer for the band is that we've been back loading and have a heavy schedule coming up this fall. We're talking 12 out of 13 weekends we're going to be doing a show and only one of them will be local. That's going to rack up the miles on the ole vehicles for sure. It's like we're going to be one of those acts that travels around the renfaire circuit, except that we have to go back to work every Monday after driving back home Sunday night. We might just sleep through Christmas this time around.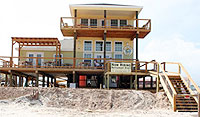 However, there will be a new twist to our schedule this year as we'll be performing at a new pirate festival this fall called the Surfside Beach Pirate Festival in Surfside Beach, TX (about 30 min from Galveston). It's a first year show and as I have said before, first year shows can be notoriously hit or miss, but I have hopes that this one will turn out well. (And no, I'm not affiliated with the management of this show at all) For one thing, they already have multiple sponsors, which is more than most start up festivals have. They also have a built-in infrastructure for doing shows as they do a large St. Patty's Day festival every year. It's also going to be right on the beach in front of a restaurant called Pirate's Alley. What more could you ask for?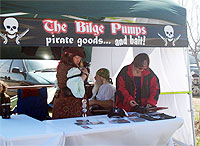 I always tend to like festivals where we can set up a booth (aka The Bilge Pumps Pirate Goods... and Bait! shop) It gives us a place to display our wares so that people can sample our ever-growing collection of Bilgy swag. Things like our buttons and guitar picks and patches and whatnot tend to sell much better when there's a table to show 'em off to everyone. It also gives us a home base to stash our gear between shows. If any of you have watched us truck around our huge amount of show junk between stages, you'll know what a blessing that can be. This year will be extra fun as our beloved Fanny the Flagmaker will be setting up her first ever costuming booth right next to ours. She's going to call it Liberty Cuffs Clothing Shoppe. (It's some type of Navy thing. You have to be on dramamine to understand.) She's been furiously making shirts, pants, sashes and more to get some stock ready for the show. She's made me 4 shirts and a coat over the past few years, so I know from experience she makes good stuff. After all's said and done, the Bilge Pumps family will have our own little wing of the festival. (And one day... the world!) So... not only do we get the added bonus of being able to hang out in style between shows while making a little money, but we get to do it on a beach. Now that's nice.

By the way, if anyone reading this has any piratey goods to sell and wants to set up a booth a the festival, hit their website linked above and click on the vendor app. They're waiving the fee for this year since it's a first year show, so it might be a good time to break in. Even if you don't want to set up shop, be sure and come anyway as people dressed up as pirates get in free. Hopefully, we'll see a bunch of you there, and if we do, be sure to bring a chair and sit down and visit.
Because it's all for me blog. Me jolly jolly blog.
....Maroon