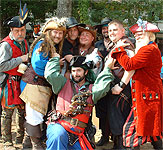 So, I'm guessing some of you have heard about a little something called a recession recently. I didn't say the recession, obviously, since there have been many in the past and there will be more in the future. However, we've been staring one in the teeth recently and it definitely affects the world of renaissance festivals and the fun costumed performers that dwell within. I'm thinking at this point, most everyone who regularly goes to ren faires, "the playtrons" (you know who you are), will continue to go. They have a sizable investment in time and money in their hobby and they're not going to be abandoning it short of an apocalypse. However, these faire-goers, however tenacious, are only a small percentage of the population of a successful festival.
Take a look around at the next faire you go to and you'll see what I mean. The majority of ren faire junkies fall into the categories of young, childless singles looking for fun ways to spend their spare time, or they are older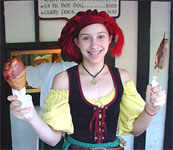 (or should I say, more experienced) people whose children are all grown up and they are looking to continue connecting with their social network they have found at faire. Neither of these demographics are who the enterprising festival owner or marketer are shooting for. They want the families. They want mom & dad shelling out ticket prices for the single day outings to the festival for themselves and their 2.4 kids. They want them forking over the 50 bucks for the obligatory turkey legs, meat on a stick, and ye old king's sodas for said family and they want them to develop a habit of buying the huge festival steins for each year to add to a growing wall shelf. The real question contributing the health of the renaissance festivals of the country is... will these people still be back this year?
I can't say I know, but I can easily imagine parents deciding to forgo that annual outing that is guaranteed to cost them $200.00 - $300.00 for a day's entertainment. Especially if they're worried about their jobs or bigger bills due to higher electric and natural gas costs and whatnot. You could spend $75.00 and take them to Chuck-E-Cheese and get the same result. (Though obviously not as much fun for them or us performers) I guess this Spring, when the majority of festivals around the country kick into gear, will start to give us a clue. As of now, most of the budgets are the same as last year since they're still running off last year's money, but that could all change next year and the entertainment for a festival could get cut back and you'll see less of your favorite acts. Though feel free to send emails and give high marks on exit surveys telling the owners how much you loved the Bilge Pumps.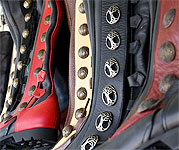 Another question to consider is what about the vendors? Well, off-hand, I would say that the food vendors will be fine. They always are. More than likely the vendors that sell the cheap kids stuff will be fine as well. But what about the other 60% of the vendors at a festival... the crafters? Oooh, they're probably going to be hurting unless they can find a way to still make a decent enough profit by lowering their prices. Even the die-hard costumed nuts are gonna find a way to milk their old boots another year instead of plunking down $600.00 for a new pair they've had their eye on. The $60.00 for a wooden mug will suddenly and inexplicably begin to seem like an outrageous amount when last year it was a must have.
Who knows what's going to happen? If I knew anything about finances, I wouldn't be hemorrhaging thousands of dollars out of my 401K right now. However, I'm betting the festival attendances this year will drop, though you'll still see all of your old friends out there, hanging out by the pubs. However, will they splurge for the season tickets or just show up a couple of days to visit everyone? Will the craft vendors end up in the red because of the cost of doing business at faire is too much to offset the lessening of their sales? More importantly, who's going to be buying all this pirate merchandise we're lugging around? Only time will tell. You can bet we'll be there to peddle it to ya, though. Will you be there?
Because it's all for me blog. Me jolly jolly blog.
....Maroon