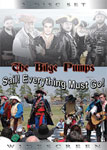 Yeah, I know it's been a while since I've made a blog posting out here (about 5 months, actually). For once, though, there's been a good reason for the length of time between random bilgy thoughts. I been working hard on the new DVD! For those of you who haven't really been paying attention on the site recently, our new 2-disc DVD, entitled "Sail! Everything Must Go!" is now released on the world and available on our Treasure Island page. (One shameless plug among many, I'm sure). The making of this DVD has been an odyssey in many ways for me. It's been a ton of hard work labeled with a whole bunch of pitfalls waiting in the wings to snag the unwary amateur filmmaker. I'll give you the cliff's notes here on what it's taken to get it done.
The first thing I had to do was go buy a new sound board with digital recording capability. I wanted to be able to isolate each track of the DVD show recording and be able to adjust the mix accordingly. I settled on buying a Korg D3200 board that allows up to 12 tracks to be recorded simultaneously to it's 40GB hard drive. These tracks I could just export out to .wav files and edit/mix them on my computer. Easy-peasy, right? Well, yes and no. The recording of the tracks worked perfectly. The biggest problem we ran into at the OU Medieval Fair (that graciously allowed us to record there) was the lack of microphones from the sound techs at the festival. In a way it's my fault for not just bringing my own mics regardless, but I told them of the 11 mics we'd need for the show and I was assured they would have us covered.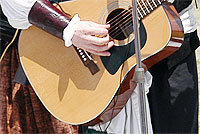 Unfortunately, they only had 10 mics, so I couldn't record the audience as I'd like to have and 3 of the mics were wireless mics that would cut out periodically and poor Squeegy's guitar mic turned out to be a wireless lavalier mic strapped to his guitar. That's probably OK for a live show, but for a recording? Not so much. There were also no windscreens on any of the mics and any Okies out there know that Norman in April is always going to be windy. So, it took lots of time and effort to try and bring out the best sound possible from the audio recordings of the show. There are still some rough spots in there, but all in all, it turned out well. Sharkbait had to take Squeegy's guitar track and put it through a ton of processing to get rid of the fuzz and rattling that came from being recorded on a lavalier mic, though. This process of getting the sound mix done took probably about 2 months of work (in my spare time, which I have little of) And it was just step one! Still no video edited at all! Yeesh!
One thing I knew I wanted to do with this DVD was get all of the footage I could scrape together from the past 9 years of the band's existence and make a history of the Bilge Pumps to video kind of thing.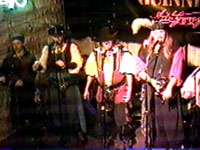 To that end, I started ripping down footage from mini-DV tapes and old VHS tapes with the band on it and selecting and editing a ton of songs from our storied past. I ended up settling on 41 songs and over 2 hours worth of footage from all of our past shows. Eventually, due to space limitations on the DVD, this list ended up getting pared down to 23 songs and a little over an hour of footage, but it does a pretty good job of capturing the ever-changing lineup of Bilge Pumps from the band's first gig at Mardi Gras Galveston in 2000 to Galleon O'Galleon's last show with the band at Louisiana in 2007. Some of the footage wasn't great due to it coming from old VHS tapes I still had, but it's a nugget from the past that showed what the band was like back then.
Next off, I knew I still had a ton of footage to dig through because I wanted to do a montage of funny city name rhymes that have been caught on tape during Donkey Riding. So, here I go again, downloading every mini-DV tape and old VHS tape I had with show footage to my shiny, new, big-ass hard drive to have plenty of choices to sift through. After all was said and done, we picked out 73 city name rhymes collected together that lasts for over 30 minutes. I tell ya. If you're not sick of Donkey Riding by the end of watching all of those put together, you've got a cast iron stomach.

Then it was time to edit the video for the main show itself.. and that went well enough. The four cameras were easy enough to synch to the audio track that I had created from the raw sound files. It took a while and there ended up being about 250 edits or so during the show including the end credits and all seemed to be doing well.
After the main show was edited, I began editing the Beneath the Music feature for the DVD.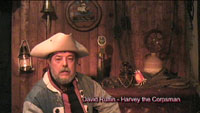 If I thought the main show took a while, then I was in for a rude awakening when it came to editing this monstrosity of a video. Clocking in at about an hour and forty-five minutes long and with hundreds and hundreds of edits, it was rapidly becoming my preoccupation in life. I spend countless hours digging through all the old pictures and video interviews to find ones that helped tell the (real and fictional) story of the band. Not to mention compressing about 4 hours worth of band member interviews into about 90 minutes. If anyone knows anything about this group of pirates, they know that we can tend to ramble on.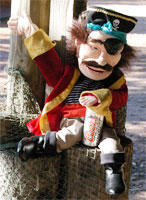 With the bulk of the editing done, Patrick and I shot the footage of the animated menus featuring our new Bilge Pumps mascot, One-Eyed Willy which turned out to be pretty funny stuff. (BTW, be sure and let the main menu on the first run for a little bit, there's some good gags in there) With all the footage edited down, it was time to make the disc itself... and here's where the frustration really begins. You see, I was using Pinnacle Studio Version 11 to do the editing of the DVD and Pinnacle excels at doing edits. It's a good tool for that. Where it fails miserably is in the outputting of the material to disc. You see, the edits are only one portion of making a disc. You have to get all the menus linked up correctly and then all of the chapter links pointed to the right spots and all of that. Once that's done, you tell the software to make a set of DVD .VOB files that will get burned to the disc when all's said and done. However, this is when the crashes started happening. Pinnacle would crash out on the very last step before the burning of the disc, which meant it would go through the hours of rendering video, then would bomb out at the last bit. It was driving me insane! (as Sharkbait Simon can attest) Since it would take 4 hours a pop to see if the latest attempt at fixing the problem would work, I would only get about 2 cracks a day at getting the DVD done and this process ended up taking about 6 weeks or longer. This is why the DVD came out at the end of TRF instead of the beginning. Then, one day, magically, it worked! Don't know how or why, it just started working. Well, believe you me, I went to town in a hurry. I made sure not to touch the PC any more than I had to worrying about jinxing the process. I would manage to get a disc burned and then check it for problems, find some, and implement the fix. All in all, about 5 edit/fixes later, the final master of the DVD was done and ready to ship off to the duplicators. Hallelujah! It was finally done!
Well.... almost done. I still had to finish the artwork for the DVD discs and the cover. Dammit! Oh well, once that was done, the disc was sent off the the duplicator and all was right with the world again. I could finally take a nap... well, except for the fact that naps are gone for me as I've another child on the way. Well, I guess I'll get some sleep in 18 years once the kids have moved out of the house.

At least the DVD with all of my pirate kids on it is done and that's one less thing to obsess about... until it's time to work on that Christmas CD.
Because it's all for me blog. Me jolly jolly blog.
....Maroon